In Memory
Mildred A Thompson (Cain) - Class Of 1950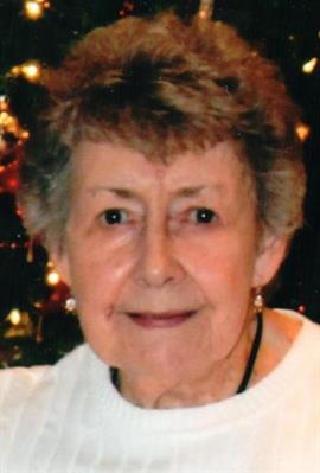 Clay 1947 Mildred A (Thompson) Cain
Mar. 27, 1929 - July 23, 2016
NILES - Mildred A. Cain, age 87 years, formerly of Niles, Michigan, died peacefully at 11:58 a.m. on Saturday, July 23, 2016, with her family gathered around her bed at The Sanctuary at Holy Cross in South Bend, Indiana, following a brief illness. The staff and fellow residents of The Sanctuary made her feel loved like family, and very at home.
She was born on March 27, 1929, in the family home on Brick Road in South Bend, to Dewey and Ruth (Syson) Thompson. She was graduated from South Bend Clay High School, and had lived in Niles since 1950. She was first employed at the former Niles plant of Simplicity Pattern Company, and later at the former Niles K-Mart, and for many years at the former Silverbrook Manor (now The Chalet).
Millie was a member of Hope Community Church in Niles, and had formerly attended Community Baptist Church in Edwardsburg, Michigan, and Grace Baptist Church in South Bend. She enjoyed baking, creating apple pies and chocolate chip cookies that were highly regarded. She also enjoyed maintaining flower and vegetable gardens, traveling throughout the United States - usually camping along the way, and had made a special trip to Paris, France. She was a great fan of the Chicago Cubs baseball team, and loved every dog or cat that came into her presence, but was all second to the love that she has for her family.
On September 1, 1950, in South Bend, she married Joseph F. Cain, who adored her through forty years of marriage prior to his death on July 25, 1991. She was also preceded in death by a great-grandchild, Violet Cain, and by a sister, Marian Carter.
Surviving family includes her children, Marcia (& Tom) Rentfrow of Niles, Michael (& Michele) Cain of Jacksonville, Florida, Becky (& Jim) Helfrich of Niles and Linda (& Scott) Meador of Niles; grandchildren Joshua (& Tiffany) Cain, Jonathan (& Ashley) Cain, Melissa (& Brian) Shumaker, Dale Holloway, Alise (& Jimmy) Gilley, Kelsey (& Ian) Edwards, and Theresa (& Jason) Lingle; great-grandchildren Adonaia, Ezeriah, Ariella, Zuriel, J.J., Grace, Clare, Kennedy, Gabrielle, Lilly, and Davey; and Millie's sister, Marlene Bishop of Granger, Indiana; and several nieces and nephews.
The funeral service for Millie Cain will be at 3:00 p.m. on Sunday, July 31, 2016, at the Halbritter Funeral Home in Niles, with the Rev. Ronald Smith of Hope Community Church officiating. Committal services will follow at Mission Hills.
The family will receive relatives and friends beginning at 2:00 p.m. on Sunday at the funeral home. Contributions in memory of Millie Cain may be made to the American Diabetes Association .
www.halbritterfunerals.com
- See more at: http://www.legacy.com/obituaries/southbendtribune/obituary.aspx?n=mildred-a-cain&pid=180799025&fhid=8847&eid=sp_ommatch#sthash.5Z5OIR8z.dpuf