In Memory
Stephen J Warren - Class Of 1984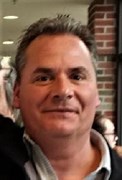 Clay 1984 Stephen J Warren
Nov. 20, 1965 - Dec. 23, 2017
SOUTH BEND - Stephen J. Warren, 52, of South Bend, Indiana passed away at 3:33 p.m. Saturday, December 23, 2017 in his home.
Stephen was born on November 20, 1965 in South Bend to Jim and Carol (Dokey) Warren, and was a lifelong resident. He was a 1984 graduate of Clay High School and had attended IVY Tech in South Bend. Stephen was employed with the Plumbers and Pipefitters Local #172 for 23 years. On November 25, 2017 he married Carey R. Branstetter, who survives. Also surviving are his two children, Mika Warren of Elkhart, Indiana and Anthony Tibbitts-Warren of Edwardsburg, Michigan, his parents, Jim and Carol Warren of South Bend, Indiana; one sister, Darlene (Michael) Van Tubbergen of South Bend, Indiana; two brothers, Jeff (Tammi Held) Dokey of South Bend, Indiana and Jamie (Tanya) Warren of Mishawaka, Indiana; and by several nieces and nephews.
A visitation will take place from 2:00 p.m. until 4:00 p.m. Friday, December 29, 2017 in the Kaniewski Funeral Home, 3545 N. Bendix Drive, with services to follow at 4:00 p.m. Stephen was a proud citizen of the Pokagon Band Potawatomi Nation. He enjoyed fishing, grilling, and playing cards. Stephen was a huge Notre Dame football fan, loved NASCAR, and loved his dog, Lucy.
Memorial Contributions may be directed to St. Jude Children's Research Hospital. To send online condolences, please visit kaniewski.com
Published in South Bend Tribune on Dec. 28, 2017
jmc 29 dec 2017