Reunions 2018
Reunions for 2018
Clay High School Class of 1983 will be having our 35th Reunion on the weekend of August 3-5, 2018. Exact plans still to be determined, but there will be a party on Saturday August 4th, I believe at Macri's in Granger. We're tentatively planning an informal get together for Friday night, a golf outing for Saturday morning, and possibly a picnic on Sunday early afternoon.
Cheryl Romine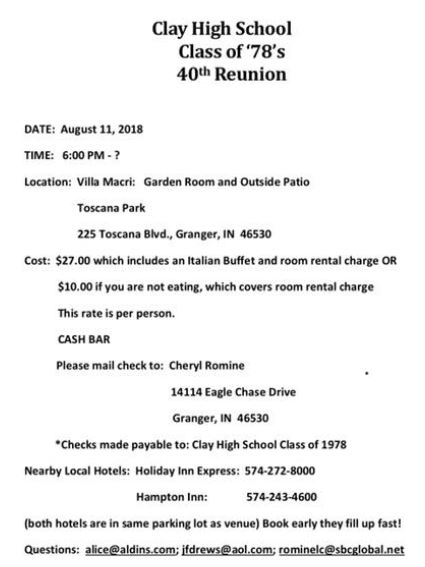 ---
Clay All-Year reunion will be Saturday August 4th
Aug 4th, 2018, 6-10, F.O.P. Mishawaka In, 12th st., casual dress, appetizers, cash bar, music, $20.00 PER PERSON. Please rsvp by July 10. EMAIL; clayallclass@gmail.com or call 574-272-2854 Hope to see you there!