In Memory
Jason Andrew Smith - Class Of 1991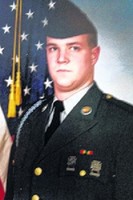 Clay 1991Jason Andrew Smith Sr.
Mar. 22, 1973 - Feb. 6, 2016
HUNTINGTON - Jason Andrew Smith Sr. (42) passed away peacefully in his home in Huntington Indiana. Survived by His Mother Suellen Marie Smith, Father Gregory James Smith, (Brother the late Zachary James Smith) of South Bend, IN, Daughter Gabrielle Star Smith, Son Jason Andrew Smith Jr., Granddaughter Athena Star Smith of Mishawaka, IN, Grandmother Eunice Adele Miller of South Bend, IN. also many relatives and friends. Jason had a passion for cooking, especially grilling. He often said he found joy when people enjoyed the meals he prepared. Jason was employed at The Country Post in Huntington, IN. Jason Served in the Indiana National Guard the 151st Infantry, 1991-1994. He was a graduate of Clay High school and attended Ivy Tech College South Bend. Jason enjoyed time with his children, hunting, fishing, cooking, woodworking and his dog Buster.
Instead of flowers the family requests that donations be made to gofundme Jason and Zachary Smith memorial fund https://www.gofundme.com/zacharysmith.
Funeral services will take place at the First Methodist Church, 333 N. Main South Bend, IN on April 16, 2016 at 11:00 AM. Luncheon to follow at The UAW local 5, 1426 S. Main, South Bend, IN.
- See more at: http://www.legacy.com/obituaries/southbendtribune/obituary.aspx?n=jason-andrew-smith&pid=179561298&eid=sp_ommatch#sthash.t6TFIbTj.dpuf