In Memory
Arthur Kash Wielosinski - Class Of 2008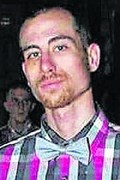 Clay 2008 Arthur Kash "Batman" Wielosinski
Dec. 27, 1992 - Feb. 6, 2017
SOUTH BEND - Arthur Kash "Batman" Wielosinski was taken away from his family and friends on Monday night as a result of a homicide.
Arthur was born on December 27, 1992, in South Bend, Indiana, where he continued to grow up. Arthur attended Clay High School and was involved in sports. He grew up playing baseball at Chet Waggoner. Arthur loved all sports and was a fan of all things Notre Dame, he loved the Colts, Bulls, and World Series Champs, the Chicago Cubs. He also loved to fish for hours. Arthur loved being a big brother and did a lot of activities with his siblings. Arthur loved Batman and took that on as his trademark.
Arthur had the opportunity to travel and fell in love with the Northwest part of the United States. He had worked for the last year as a Welder at Morryde.
Anyone who knew Arthur loved him.
Arthur is survived in death by his mother, Tammy Dohner, and dad, Larry Hay; his biological father, David (Miriam) Wielosinski; his grandfather, Greg (Lisa) Dohner; grandmother, Carol Wielosinski; great-grandfather, Jim Dohner; his siblings, Larry Hay II, Cee Cee (Alex) Hay, William Hay, Jamie (Cory) Fortson, Summer Crandell, Madison Wielosinski, and Chelsea Wielosinski; two aunts, Alisha Binder and Sherri Lazo; uncles, Greg Dohner, Philip (Felicia) Renaud, and Eric and Danny Wielosinski; nephews, Dakota (Maria), Sonny, Fred, Mason, and Montana; nieces, Shyanne, Jersey, Ryelynne and Daisy; two great-nephews; along with a long list of cousins and extended family, Cat and Candice (Mathai) Beal, Travis Jones and Travis Jones.
Arthur was preceded in death by his grandmother, Connie Smith; uncle, Steve Lake; and a sister, Heather Hay; and grandfather, Don Wielosinski.
Services for Arthur Kash "Batman" Wielosinski will be held Thursday, February 16, 2017, at 4:00 p.m., at Alford's Mortuary. Visitation will be held on Wednesday, February 15, 2017, from 6:00 - 8:00 p.m. at Alford's.
Alford's Mortuary has been entrusted with arrangements. To leave an online condolence, please visit our webpage and sign the guestbook at www.alfordsmortuaryinc.com.
Published in South Bend Tribune on Feb. 15, 2017
- See more at: http://www.legacy.com/obituaries/southbendtribune/obituary.aspx?n=arhtur-kash-wielosinski-batman&pid=184140640&fhid=8823&eid=sp_ommatch#sthash.Mh0SuPFG.dpuf