In Memory
Derek B Davidson - Class Of 2005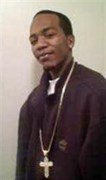 Clay 2005 Derek B Davidson
July 10, 1987 - Feb. 17, 2017
SOUTH BEND - Derek B. (D-Boy) Davidson of South Bend, IN, passed on February 17, 2017 in Warsaw, IN. Derek was born on July 10, 1987 in South Bend to Patricia Ann Miller and Raymond Davidson, Jr.
Derek was a lifelong resident of South Bend, Indiana. He attended Clay High School. He was employed by Flexaust Manufacturing Company as an assembler, in Warsaw, IN.
Those left to cherish his memory are fiancee Shawntal Shepard of Warsaw; son, Derek Davidson Jr., South Bend; daughter, Lakia Davidson of South Bend; mother, Patricia Miller of South Bend; sisters, Yolanda Davidson of Indianapolis, IN; Yvonda Davidson, LaShaunda Davidson, Kaylynn Davidson, Kanysha Harden; Syreeta Hyde of South Bend; brothers, DeShawn Davidson of South Bend; Keith Ivory of Ft. Wayne, IN; maternal grandparents, Willie and Geraldine Hastings of South Bend; aunts, Yolanda Miller, Demetress (Joe) Davis, both of South Bend; Sharon Floyd of Toledo, OH; uncles, Stanley (Jean) Miller of Aurora, CO; Vincent (Wendy) Davidson, Dwight (Patricia) Manns of Dallas, TX; Daniel (Dora) Manns of South Bend; and a host of great-aunts and uncles, cousins, nieces, nephews, and friends.
Derek was preceded in death by his father, Raymond Davidson; paternal grandparents, Norman and Doris Brazier; maternal grandparents, Ida Mae Rucker and Willie and Inobia Baker; aunts Debra Miller and Darlene Sims; uncle, Gene Floyd; brother, Delvon Davidson; and sister, Kenya Ellis.
Funeral services for Derek will be held at 1:00pm on Friday, February 24, 2017 at Palmer Funeral Homes-West Chapel, 2702 Lincolnway West, South Bend, IN 46628. Pastor Keith Witherspoon will officiate. Graveside services and burial will follow at Highland Cemetery. Friends may visit with the family from 12:00-1:00pm on Friday, February 24, prior to the service, at the funeral home.
Memorial contributions may be donated to the Davidson Family c/o Palmer Funeral Home, 2702 Lincolnway West, South Bend, IN 46628.
Online condolences may be left for the Davidson family at www.palmerfuneralhomes.com.
Published in South Bend Tribune on Feb. 22, 2017
- See more at: http://www.legacy.com/obituaries/southbendtribune/obituary.aspx?n=derek-b-davidson&pid=184211708&fhid=11974&eid=sp_ommatch#sthash.Z0fIvr7z.dpuf