In Memory
David Richard Beebe - Class Of 1982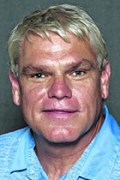 Clay 1982 David Richard Beebe
July 30, 1964 - May 26, 2017
SOUTH BEND - David Richard Beebe, age 52, of Barnardsville, NC, died Friday, May 26, 2017.
David was born July 30, 1964, in St. Joseph County, Indiana, to Richard and Marilyn Benner Beebe. He graduated in 1982 from Clay High School in South Bend, Indiana, and was a graduate of Purdue University with a Bachelor's degree in construction engineering. Currently he was employed with Beverly Grant Construction Company. David attended Alexander Baptist Church. He was preceded in death by his sister, Debra Ann Beebe.
Surviving in addition to his parents are his children, Faith Debra, Joel David and Abigail Grace Beebe; stepchildren, Adam Nicholas Bowman and Rachel Frances Beebe.
His memorial service will be held at 2:30 p.m. Saturday, June 3, 2017, in the Chapel of West Funeral Home, 17 Merrimon Ave., Weaverville, with Reverend Gerald Sprinkle officiating.
The family will greet friends following the service.
Memorial contributions may be made to the Debra Beebe Memorial Scholarship Fund, University of Wisconsin-Madison, School of Social Work, UW Foundation, U.S. Bank Lockbox 78236, Milwaukee, WI 53278-0236.
For those who desire, condolences may be offered to the family under Mr. Beebe's obituary at www.WestFamilyFuneralServices.com.
Published in South Bend Tribune on June 1, 2017
- See more at: http://www.legacy.com/obituaries/southbendtribune/obituary.aspx?n=david-richard-beebe&pid=185673551&fhid=6120&eid=sp_ommatch#sthash.0zKOUUep.dpuf
jmc 1 jun 2017