In Memory
Mary Beth Walasinski (Kroeger) - Class Of 1981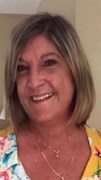 Clay 1981 Mary Beth (Walasinski) Kroeger
Jan. 4, 1963 - Aug. 10, 2017
LAKEVILLE - Mary Beth Walasinski-Kroeger, 54, passed away peacefully surrounded by her children, their father, her fiancé, parents, brothers, sister and many nieces at 2:31 am on Thursday, August 10, 2017, at Memorial Hospital of South Bend, after she had an unexpected brain hemorrhage Wednesday morning. She was born January 4th, 1963, in Toledo, Ohio, to Joe and Millie (Zimmer) Walasinski. She graduated from Clay High School in 1981. A resident of Lakeville, IN, for most of her adult life, Mary was known and loved by many. She worked hard at numerous establishments and most recently as manager of Jack's Bar & Grill.
Mary had a compassionate heart and cared deeply for others. She was very selfless and more often than not put other's interests before her own. Most of all, Mary made it known that she loved her children every day of her life. She would do anything in her power to help her friends and family when they needed it, without question. She had a dynamic personality that allowed her to succeed in whatever she put her mind to. As her parents would say, Mary was a "tough cookie." Her children are immensely proud of her perseverance and commitment to living a healthy lifestyle. The impact she made on them and so many others while on earth was profound and she will forever be missed.
Mary loved the ocean and the sun, music, dancing, road trips, camping, gardening, laughing, and being silly. She was really good at tricking people on April Fool's Day. She looked forward to spending her retired life in Florida with Denny, where they recently began looking for a home. Mary was ecstatic when she found out she was going to be a grandmother for the first time Christmas morning of 2016. It gave her a renewed sense of purpose and she made it her life's mission to be the best "Grammy" with "the most spoiled granddaughter ever." Her granddaughter, Maryelle Monica, was born to Danielle Kroeger and Mijo Bueno just 32 hours and 12 minutes after the last beat of Mary's heart. Mary would be beyond proud that her daughter honored her life by naming her first grandchild child after her.
Mary was the youngest of 5 children. She is survived by her three children, Brian Kroeger, Danielle (Mijo Bueno) Kroeger and Catrina Kroeger; her fiancé, Denny Hardy; her parents, Joseph and Mildred Walasinski; her sister, Cindy (Joe) Warren; her brothers, Mike (Cheri), Bob (Gay), and Joseph Walasinski, III; the father of her children, Brian E. (Denise) Kroeger; Denny's family and grandchildren, whom she considered to be her own and many more family members who loved her dearly. She was preceded in death by her Uncle Moe & Aunt Grace Cureton.
Friends are welcome to visit with the family from 12 pm - 2pm on Sunday, August 20, 2017, at the Palmer Community Complex (formerly Newton Center), 601 N. Michigan St., Lakeville, IN. Services will be held at 2 pm. Father Terrence Coonan, Jr. will officiate. A celebration of life will follow at the Lakeville American Legion Post 363, where Mary was a member. In lieu of flowers, memorial contributions may be donated to Mary Kroeger Baby Account, an account Mary previously established for her granddaughter at Key Bank, 4627 Miami St., South Bend, IN 46614. Online condolences may be offered to the family at www.palmerfuneralhomes.com.
Published in South Bend Tribune on Aug. 16, 2017
jmc 16 aug 2017