In Memory
Phyllis M Thompson (Barkley) - Class Of 1946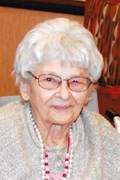 Clay 1946 Phyllis M (Thompson) Barkley
Dec. 14, 1928 - Nov. 25, 2017
SOUTH BEND - Phyllis M. Barkley, 88, passed away on November 25, 2017 at Healthwin Care Facility in South Bend, Indiana. She was born on December 14, 1928 in St. Joseph County. She was the daughter of the late Frank Galvas and Eleanor Galvas Thompson. A lifelong resident of St. Joseph County, she graduated from Washington-Clay High School in 1946, where she was her class treasurer. On August 21, 1948, she married Phillip D. Barkley, to whom she was married 50 years. Mr. Barkley preceded her in death on August 9, 1999.
Phyllis was an avid volunteer, including 4-H and Hospice. She was the German Township Trustee, a member of the St. Joseph County Democratic Women's Club and was on the board of Portage Manor.
She was an avid supporter of the German Township Volunteer Fire Department, now known as the Clay Fire Territory, Station 23. Her work was recognized in July of 2014, when the Phyllis M. Barkley Memorial Pavillion was dedicated. At the same time, she was named a Sagamore of the Wabash for her many contributions to the community.
Mrs. Barkley is survived by her sons Thomas (Muriel) Barkley of New Carlisle, IN, Robert (Janice) Barkley of Columbia City, IN, Christopher (Susan 0 Barkley of New Carlisle, IN, daughter Lauri (Bobby) Cleek of The Woodlands, TX, and son John (Jacki Badics) Barkley of New Carlisle, IN along with seven grandchildren and eight great-grandchildren.
She was preceded in death by her brothers, Edward and John Galvas.
Our family thanks Healthwin Care Facility for the fine care Phyllis received.
Visitation will be held from 4-8 p.m. Wednesday with the Rosary at 7:30 p.m. There will also be visitation from 9-10 a.m. Thursday at the Kaniewski Funeral Home. Funeral service will be Thursday November 30, at 10:00 a.m. at the funeral home with burial in Riverview Cemetery.
Memorials may be made to Clay Fire Territory Station #23.
Published in South Bend Tribune on Nov. 28, 2017
jmc 29 nov 2017