In Memory
John Alan Sechrist - Class Of 1996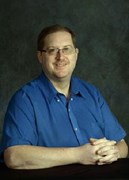 Clay 1996 John Sechrist
Feb. 7, 1978 - Feb. 11, 2018

BENTON HARBOR - John Alan Sechrist, Jr., 40, of Benton Harbor, passed away suddenly on February 11, 2018, at his home. A Celebration of Life Service will be held at 12:00 PM on Saturday, February 17, 2018 at Berrien County Baptist Church, 5940 St. Joseph Ave., Stevensville, with Pastor James Whitman officiating. Friends may visit with the family Saturday, February 17, 2018 from 10:00 AM until time of services at the church. Memorials may be made to Berrien County Baptist Church. Those wishing to leave a condolence online may do so at www.starks-menchinger.com.

John was born on February 7, 1978 in Niles, Michigan to John Alan Sechrist, Sr. and Eilene (Houston) Sechrist. He graduated from Clay High School in South Bend, and then studied at Indiana University South Bend and Southwestern Michigan College. He was a shift manager at McDonald's in Benton Harbor. He was a veteran of the U.S. Marine Corps and enjoyed an extended church family at Berrien County Baptist Church. He adored his only two nieces, Paige and Natalie. He loved Cubs baseball and was thrilled when they won the World Series in 2016. He also enjoyed playing euchre, poker night at his cousin's, and weekly bowling with friends. John is survived by his mother and stepfather, Eilene and Rich Lewis of Springville, IN; brother, Chad Sechrist of Aiea, Hawaii; sister, Megan Litkenhous and her partner, Andrew Lambert of Bloomington, IN; grandmother, Florence Anders of Sarasota, FL; nieces, Paige and Natalie Litkenhous; and his girlfriend, Leeann Lara of Houston, TX. He was preceded in death by his father.
Published in South Bend Tribune on Feb. 15, 2018
jmc 16 feb 2018