In Memory
Michael Gentry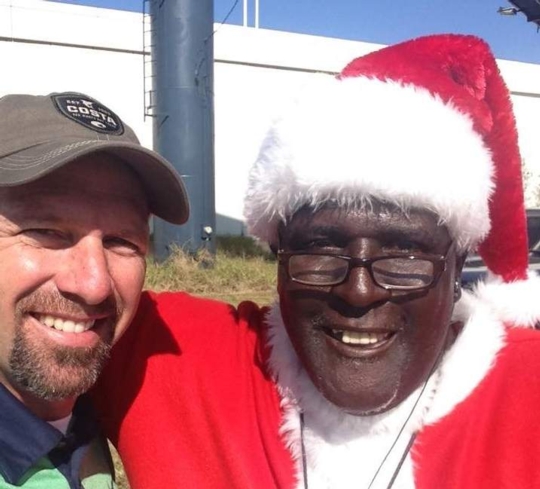 TAMPA — He was homeless, yet he had a corner to call home.
For 20 years, Michael Gentry stood or sat near the traffic light on Scott Street where the entrance ramps split to admit long lines of traffic onto Interstates 275 and 4.
At night, he slept on the lawn of the adjacent Ruben and Steve Bazarte Bail Bonds.
He usually had something for sale — newspapers for a while, and later, cold bottles of water. A hefty man, he often wore a Santa Claus costume for Christmas and a leprechaun hat for St. Patrick's Day. He drew added attention with his handmade signs proclaiming political stands or cheering sports teams.
Motorists who took time to chat found a friend.
Most didn't know that the man on the corner helped police bust criminals as a regular source of tips. Or that in a past life, he may have been a star football player.
Mr. Gentry died of heart disease at St. Joseph's Hospital on Sept. 22. He was 57.
"I called him the on-ramp entrepreneur and comedian," said Catherine Peek McEwen, a Tampa bankruptcy judge. "Now he's an angel. Getting onto 275 will never be the same."
Bail bondsman Steve Bazarte installed a wooden cross on the corner as a memorial to the man everyone knew as Big Mike.
"We met 20 years ago," Bazarte said. "I have a lot of homeless people who come through here and one day we started talking and became friends."
Mr. Gentry had free rein on Bazarte's strip of property, helping keep away people who could not be trusted but also because he was a joy to have around.
"He was very intelligent," Bazarte said. "He read the newspaper from front to back."
Tampa Mayor Bob Buckhorn was among those who took the time to chat.
"Michael was a Tampa staple and would greet everyone with a big smile and a great conversation," Buckhorn told the Times. "I would see Michael almost daily and his infectious personality in spite of whatever challenges he faced in his life was contagious."
Bazarte said Mr. Gentry claimed to be from South Bend, Ind., where as a kid he worked at the University of Notre Dame stadium before starring on the gridiron as a linebacker with the University of Texas at El Paso.
According to news archives from those cities, a Mike Gentry was indeed an honorable mention all-state tackle for Clay High School in South Bend and later played linebacker for UTEP. As a college senior, he was second on the team in tackles but was suspended for the final game for breaking team rules.
Mr. Gentry moved to Florida for a security job at a Marriott hotel in Orlando, Bazarte said.
Tampa police Capt. Mike Stout recalled with a chuckle how Mr. Gentry would describe his arrival.
"He was driving through Tampa in his BMW and it broke down at that intersection near 275," Stout said, "so he decided to stay there for the rest of his life."
From that vantage point, Mr. Gentry learned about all kinds of activity that proved of interest to police.
"Some of my most successful cases came from what he saw and heard," Stout said. "One time he heard of a cache of guns in an abandoned apartment and relayed that to us."
Still, it is Mr. Gentry's humor that his friends will remember most.
He had one sign that read, "Will work for fried chicken," Bazarte said. When the spirit moved him, he'd stand up and do a jig.
When Judge McEwen needled Mr. Gentry about his pro-Donald Trump and anti-Barack Obama signs, "He grinned a big grin," she said, "and told me, 'Darling, I know my customers and who they support.'?"
Like many homeless people, Mr. Gentry wrestled with demons, his friends acknowledged. He was arrested more than two dozens times on charges including cocaine possession, petty theft, soliciting on a right of way, and trespassing.
The heart disease that killed him was brought on, in part, by obesity and cocaine use, according to the Hillsborough Medical Examiner's Office.
Mr. Gentry complained of chest pains three weeks ago, and Bazarte called an ambulance. He spent five days at Tampa General Hospital, where three stents were inserted in his heart. But the pains returned within hours after his release. Taken to St. Joseph's, he never recovered.
Through the years, Mr. Gentry received offers of full-time employment and housing assistance, said George Scott, who often spoke with him. Mr. Gentry would turn them down outright, or accept one for a time, only to find his way back to Scott Street.
"He had a job on that corner and was there, rain or shine," Scott said. "He was happy."
Every morning, Mr. Gentry took the bus to a store, bought a case of water and two bags of ice, and returned to his corner, Bazarte said.
He had a red cooler for a seat, a blue cooler for the water, and a blue-and-white umbrella for shade.
If he had a good day, or if customers traded him more food than needed, Mr. Gentry would share the surplus with other homeless people, Scott said.
Friends say Mr. Gentry spoke of brothers and sisters and a wife.
The Medical Examiner's Office will search for next of kin. If none is found in a few weeks, Scott would like to honor Mr. Gentry somehow, perhaps with a service.
"We loved the man," Scott said. "It was a privilege to know him."
Contact Paul Guzzo at pguzzo@tampabay.com. Follow @PGuzzoTimes.
Michael Gentry
Born: March 9, 1961
Died: September 22, 2018
10/06/2018 JFC