In Memory
Ronald E York - Class Of 1962 VIEW PROFILE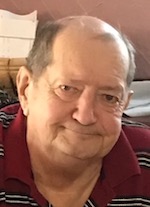 Ronald E. York
5/7/1944 – 9/8/2022
Ronald passed away peacefully on September 8th at St Joseph Medical Center in Mishawaka. He was surrounded by loved ones as he transitioned into eternity.
A graduate of South Bend Clay high school, Ronald worked at Clark Equipment in Buchanan Michigan for 22 years, and then retired as lead engineer with the South Bend School Corporation after 18 years. He will be remembered as a loving husband, forgiving father, hard-working, and making people laugh often with his dry sense of humor.
Ronald's favorite place on earth was the Black Hills of South Dakota. He loved spending time with his grandchildren, taking long drives with his wife, Sharon, going to the casino, and eating pizza from Barnaby's or Luigi's. As a younger man Ronald, he served as a volunteer fire fighter, enjoyed racing, working on cars, playing basketball, and fishing with his mother, Christina.
Ronald was preceded in death by his wife, Sharon; sister, Collen York; daughter, Kari and is survived by his brother, Colin York of South Bend; sons, David York and Ronald York Jr. (Donna), both of Buchanan, MI, John Radzikowski (Janice) of College Place, WA, and Joseph Radzikowski (Melanie) of West Lafayette, IN; and several grandchildren and great-grandchildren.
Please consider a memorial contribution to the local pet shelter or Humane Society as Ronald was an avid dog lover.
There will be a Memorial Service on Saturday, September 17, 2022, at 10am at Silver Birch of Mishawaka, 3630 Hickory Rd, Mishawaka, IN 46545. Come casual as this is what Ron would ask of you!
If you have any questions, please contact John Radzikowski at (765)490-7184 or you can email him at: pastorjohn@firstcommchurch.org
To send private condolences, please visit: http://www.mcgannhay.com/condolences.html
09/15/2022 EJS
Click here to see Ronald E's last Profile entry.